Farinelli and the King, showing at the Duke of York Theatre, is a powerful and evocative celebration of music and the arts. It is also that rare and brilliant thing: a true work of art in itself. Written by Claire van Kampen and directed by John Dove, it tells the story of the reclusive Spanish king Phillippe V. Mentally unstable and with only a frail grip on power, Phillippe (van Kampen's husband Mark Rylance) is losing his grip on reality and sees conspiracies everywhere, both real and imagined. Enter his long-suffering, devoted wife Isabella (Melody Grove). In league with his physician, she summons the world-renowned castrato singer Farinelli (Sam Crane) to Madrid, hoping that the transcendental beauty of his singing can cut through the fog of Phillippe's mind and draw him back to reality.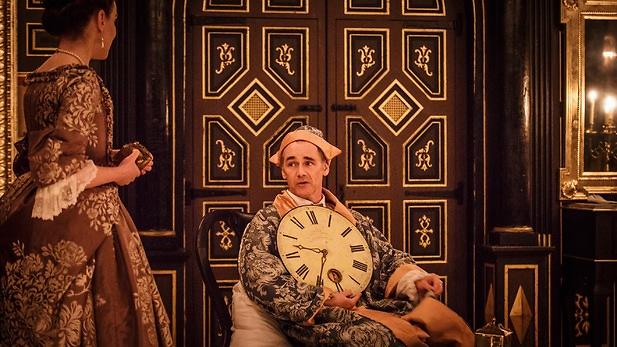 Van Campen's masterstroke is to structure the play around Farinelli's performances. Delivered by the counter-tenor Iestyn Davies (Crane's musical double in the role of Farinelli), they create a fruitful dialogue between the expertly chosen pieces of music and the plot of the play. Nowhere is this more vivid than when a tired, aged Farinelli (Crane) is confronted towards the end of his life by a performance of Handel's 'Venti, turbini' by his resplendent younger self (Davies). It perfectly demonstrates the power of music and art to reach a deeper truth and transcend everything: from madness to the passage of time. It returns Farinelli and the audience to the centre of the play: the transcendental moment when Van Campen breaks the fourth wall to have Phillippe and his entourage address the audience, casting us as local villagers who have come to the king's woodland idyll to listen to Farinelli. It is the centrepiece of a theatrical jewel: a work of art that is a paean to art itself.
Coming in the wake of his phenomenal success in Wolf Hall, Farinelli and the King could almost seem like a vehicle for Rylance. It is true that he dominates the stage: he is nothing short of mesmeric throughout, and his intuitive sense of the audience seems to give him complete control over the theatre's mood. But Van Campen's meticulously structured script is just as powerful, leaving you with the sense that this is not so much a Rylance vehicle as a triumphant collaboration between man and wife.