That awkward moment when you invite a fan on to the stage unaware of just how drunk they are.
Katy Perry was performing at the Rock in Rio festival when she decided to make a fans day, and invite her on stage. Little did she know that the fan in question was not entirely sober, well at least that's how it looks.
Inviting the girl up on stage Perry was treated to space invasion of an epic level, there was kissing, licking and even a bit of boob grabbing. Ever the professional, Perry managed to get through the awkward encounter joking that the girl was "rolling", before proceeding to take some very awkward selfies with her.
If you don't believe me when I say it was awkward, take a look at some of the evidence:
Cheeky bit of heavy petting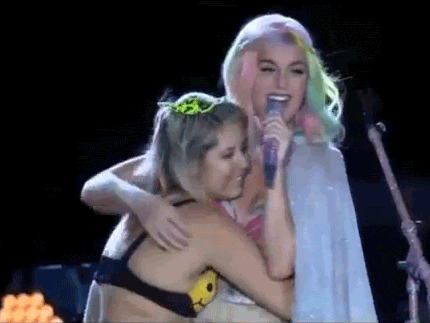 Going in for the kill
Why settle for a selfie when you can have an awkward kiss instead?!!!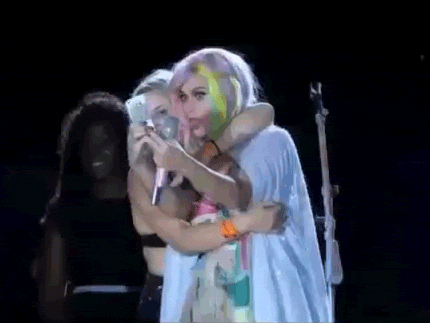 Unsurprisingly, the twitterverse had some funny things to say of the uncomfortable encounter:
Well its official. ..Katy Perry kissed a girl and she didn't like it @katyperry

— Collin Akapew (@69Akapew) September 30, 2015
Imagine waking up to realise you're the drunk girl who groped Katy Perry on stage last night. And you think your hangovers are bad.

— Glen Scott (@glenscottuk) September 30, 2015
goal in life: get drunk with @katyperry

— Adriana Sharp (@adriinie) September 28, 2015
Fans were quick to praise Perry's handling of the situation:
@katyperry handled that drunk/high fan wonderfully though !

— C (@crissysaid) September 30, 2015
I feel bad for Katy but she handled this (high/drunk?) groping fan well! #FoxKatZ1035 http://t.co/HmBXfjtwui

— Kat Callaghan (@KatCallaghan) September 30, 2015
The girl in question, Rayane, has taken to twitter to make it clear that she was not drunk:
@eudxMinaj I was not drunk

— rayane (@wtfkates) September 30, 2015
And people have jumped on board to her defence:
Funny how mainstream media outlets think the girl who groped Katy Perry was "drunk"

— HENTAI PAPI (@lachycc) September 30, 2015
But some are still dubious:
@xuao_viictor @katyperry She looked drunk lmfao

— E U D (@eudxMinaj) September 30, 2015
https://twitter.com/DanielaR1205/status/648365579607236608
Luckily Rayane saw the funny side in it all:
@katyperry drunk in loveeeeeeeeeeeeeee

— rayane (@wtfkates) September 28, 2015
Watch the hilarious clip below, and decide for yourself: