A plane carrying 172 people aborts take-off as engine bursts into flames.
A British Airways plane that was bound for London, didn't even leave the tarmac at Las Vegas Airport before it's engines caught on fire. The Boeing 777-200 had planned to take off shortly after 4pm (local time) on Tuesday (September 8), when it's left engine burst out in flames, emitting a big black cloud of smoke.
159 passengers and 13 crew members were evacuated, using the emergency slides to exit the burning plane. Approximately 50 fire-fighters were needed to subdue the blaze, which left 13 people in hospital being treated for minor injuries.
The jets pilot has been praised for his handling of the emergency situation, in an audio recording he can be heard calmly requesting fire crews, before explaining the scenario to traffic control "We are evacuating on the runway. We have a fire, I repeat, we are evacuating."
Passengers told of how they were initially asked to remain seated before being ordered to evacuate the plane. Passenger, Jacob Steinberg told Sky News that he was actually asleep prior to take off, but was woken up when the plane "came to a crashing holt" and the smell of smoke took over.
He explained that "The air stewards were saying 'stay seated, stay seated" and some people were panicking, running off… Within about a minute or so, suddenly they said 'evacuate the plane, evacuate the plane'."
He said that he could see the "look of panic" on the face of one air stewardess, after she opened the door and smoke filled the cabin, further adding "There was a mad dash to the front of the plane, where thankfully there was no smoke coming in through one of the front doors on the right-hand side of the plane… As far as I could tell, everyone was out fairly quickly onto the runway. I saw one woman who seemed to be suffering from the smoke, but otherwise I think most people are OK."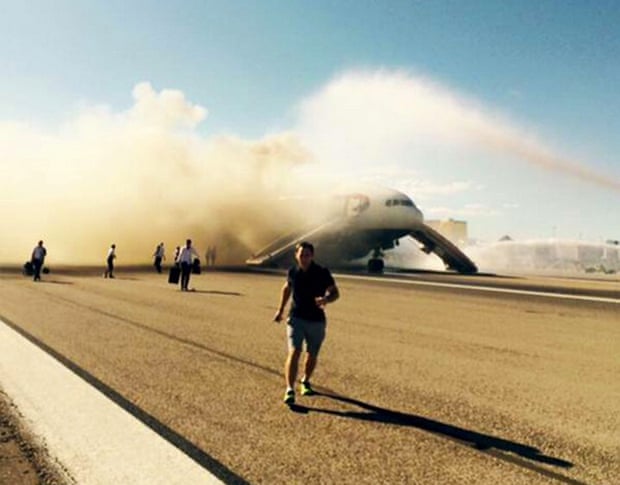 Reggie Bügmüncher said that she was charging her phone when she became aware of the fire. She had been waiting at a gate for her flight when she heard a commotion, with many people saying "Oh, my God". When she looked out of the window she could see "bursts of flames coming out of the middle of the plane".
"Everyone ran to the windows and people were standing on their chairs, looking out, holding their breath with their hands over their mouths" she said.
McCarran International Airport confirmed that all of the passengers and crew had managed to make it off of the plane and had been taken back to the terminal via bus.
A spokeswoman for the airport praised the response from both the British airways crew and the emergency response crew "We cannot express enough gratitude to the emergency response crews, as well as the British Airways crew"
Fire-fighters who were stationed at the airport reached the plane a mere two minutes after getting reports that the plane was on fire. Within five minutes everyone aboard the plane had been evacuated.
After the flames were extinguished, emergency vehicles could be seen surrounding the plane that had turned grey courtesy of the smoke.
Those who were injured were taken to Sunrise hospital, where they were treated for minor injuries that were mostly obtained by passengers whilst sliding down the inflatable chutes when escaping the plane.
British Airways said "We are looking after customers after an incident involving flight BA2276 due to travel from Las Vegas to London Gatwick Airport."
Federal Aviation Administration spokesman, Ian Gregor, said that an investigation was underway following the planes left engine catching fire.
Spokesman for The National Transportation Safety Board, Eric Weiss, said that the agency, which is based in Washington, was collecting information about the incident.
Following the incident one of the airport's runways was shut down, but operations continued as normal on the other three runways.
Talking to Sky News, Mike Vivian, a former pilot and former head of flight operations, said that such as incident is "very, very rare", stating that Boeing 777-200 is "a very successful aircraft".
Speaking further he said "I'm reluctant to speculate (what happened). But clearly this is a combination of an engine and fuel that has ignited and sometimes you have these massive blades inside that disintegrate but, beyond that, it's probably unwise to go further.
"The pilots are mentally prepared for this eventuality, however rare it is. It is a very well-rehearsed routine with both the cabin crew and the pilots."
In it's 21-year history, the Boeing 777-200 has been involved in two fatal crashes. One, two years ago (July 2013), when an Asiana Airlines flight landed short of San Francisco International Airport's runway leaving three passengers dead. The second, the Malaysia Airlines flight MH370, which went missing last year and is, as of yet, still unrecovered.